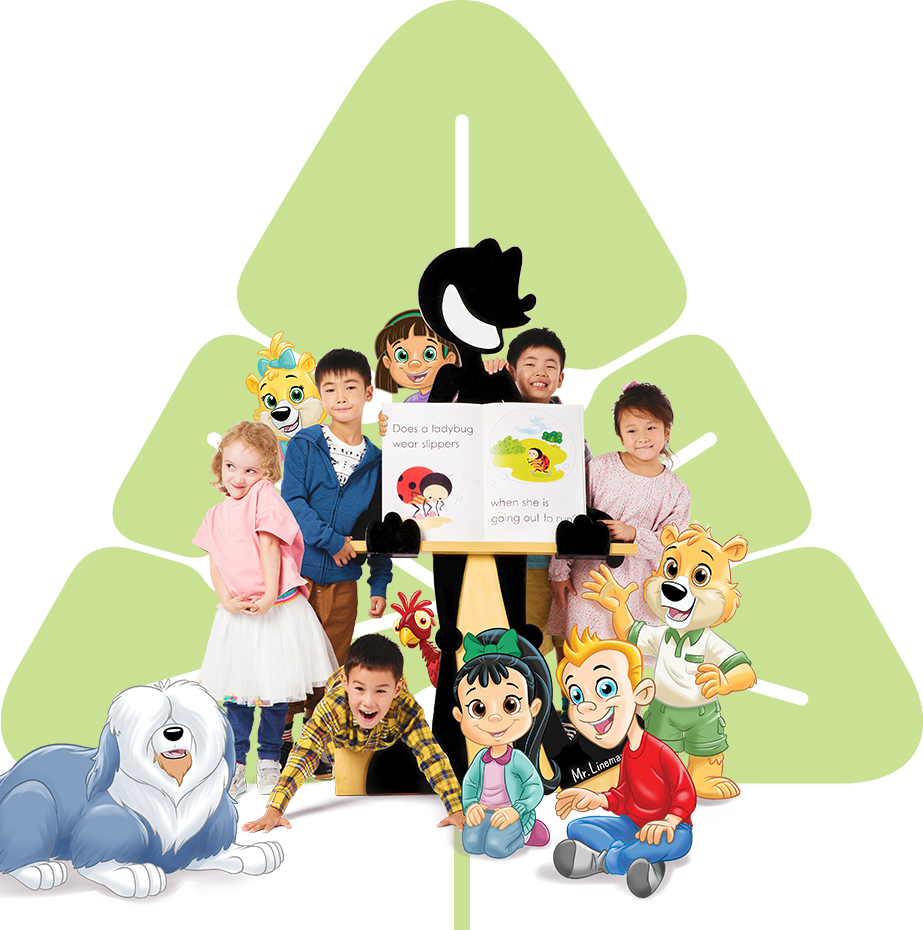 Around the world, the situation is the same: English is a tremendous advantage and an accelerant to success.
English gives children the keys to the future.
It empowers children, broadening their horizons.
It opens doors for their onward studies.
It builds their confidence in the classroom.
It creates opportunities for a lifetime of success.
THE GRAPESEED
Methodology
GrapeSEED is focused on practical use of concepts, vocabulary, language functions, and meaning comprehension instead of the memorization of grammatical rules and structures.
Students learn to hear and recognize English speech— and to process and speak their thoughts—without having to first think in, and then interpret from, their native language. By making English learning meaningful and fun, GrapeSEED makes learning interesting. By teaching English in the way that children naturally learn (through continuous exposure), GrapeSEED instills motivation and quickly builds fluency.
THE GRAPESEED
Framework
GrapeSEED equips students with the skills necessary for complete communicative proficiency — understanding, speaking, reading, and writing.
Students start by listening to the expressions of language and associating sounds with functions. They begin to mimic sounds until they learn to reproduce them. The more students hear language functions (receptivity) and the more they use language functions (expression), the easier and faster they retrieve each language function (fluency) and communicate with known "notions" (proficiency).
GrapeSEED Learning Outcomes
1. ABILITY TO LISTEN, COMPREHEND, AND RESPOND
GrapeSEED students actively engage in a variety of oral language experiences to gain an increasing level of comprehension and aural skills.
Students are expected to:
Distinguish and produce certain English sounds, words, and greetings.
Infer meaning by associating words with actions and pictures.
Listen for different purposes (functions) such as to get information, solve problems, enjoy, and appreciate.
Understand information given or questions asked by others.
2. ABILITY TO SPEAK CLEARLY
GrapeSEED students speak to different audiences using developmental vocabulary with increasing fluency and accuracy.
Students are expected to:
Engage in activities that demonstrate communication and language acquisition skills.
Initiate conversation by employing newly acquired vocabulary and concepts (notions).
Choose and adapt spoken language appropriate to the audience, purpose, and occasion.
Gain increasing accuracy and appropriate word choice when speaking.
3. ABILITY TO READ AND UNDERSTAND
GrapeSEED students demonstrate phonemic awareness and vocabulary development. They learn to comprehend and ask questions about selections read aloud.
Students are expected to:
Develop vocabulary through meaningful exercises and concrete experiences.
Develop vocabulary by discussing selections that are read aloud.
Use knowledge of phonics to decode familiar English words.
4. WRITING READINESS
GrapeSEED students develop the foundations of writing.
Students are expected to:
Learn to air write letters and numbers.
Write each letter of the alphabet and demonstrate increasing control of penmanship.
Write sentences dictated by the teacher.
Revise and edit their own writing to make ideas clearer and more precise.
GRAPESEED CURRICULUM
Core Components
At GrapeSEED, we know a variety of teaching tools are needed to assist children when learning a language. Every curriculum component has a purpose, and together, they make a rich language learning opportunity.
Learn how each curriculum component contributes to the GrapeSEED experience.